How to Keep Your Kids Safe This Halloween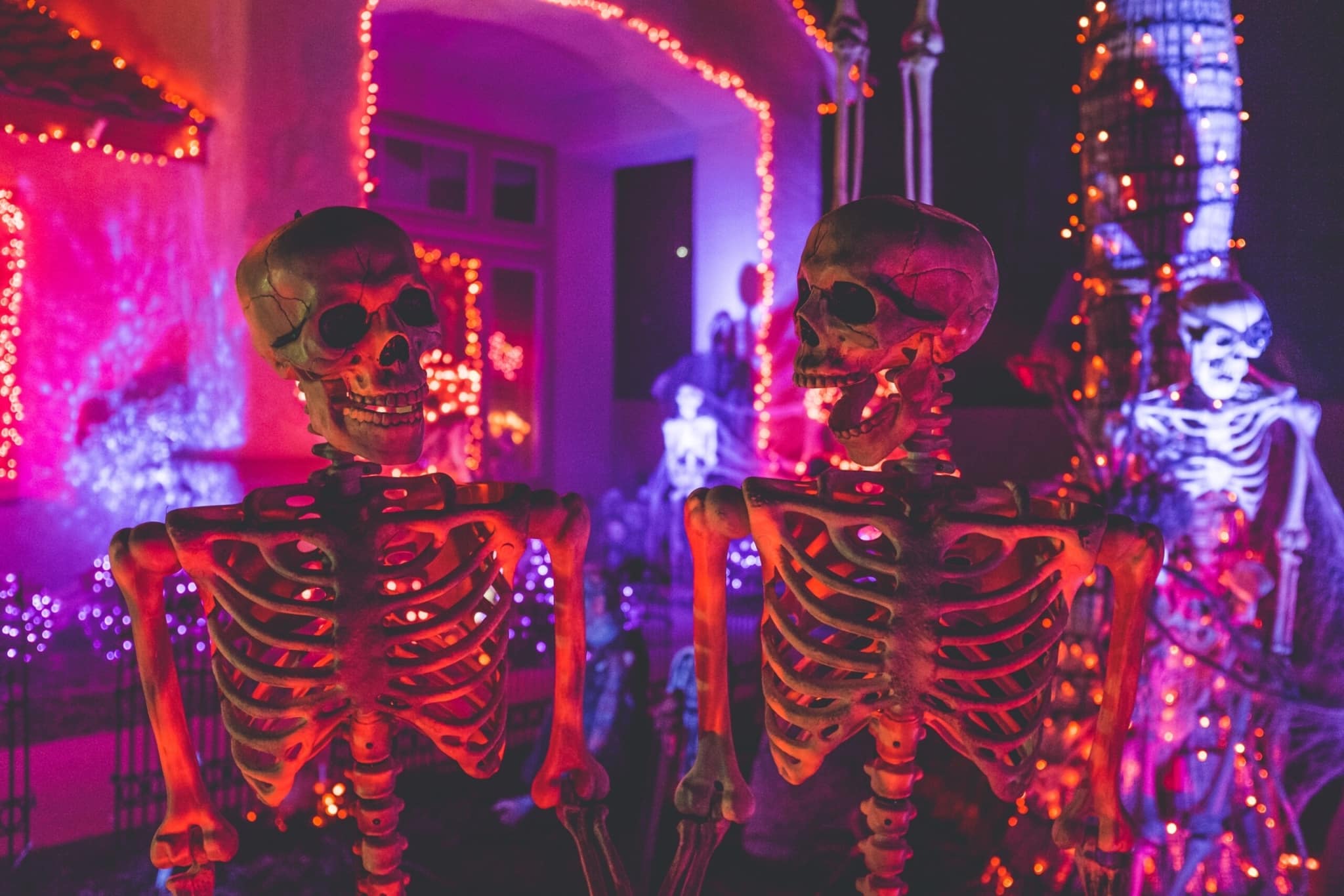 Halloween is one of the most anticipated holidays for many people, especially children. With spooks and scares, freaks and frights, who doesn't love the opportunity to feel your hair stand on end—and get some candy out of it!
However, Halloween can also be rife with risks, including sharp objects, candles, and tripping hazards. But you can keep both you and your children safe during spooky season by incorporating some easy Halloween safety tips.
1. Plan in Advance
It is a good idea to plan out your trick-or-treating route in advance. This saves you and the children in your group from having to fly by the seat of your pants. Drive around the neighborhoods that you might be trick-or-treating in and assess the route you'll take.
If you are unsure, it's a good idea to follow along behind your little goblins, witches, and monsters as they trick-or-treat, allowing them to have their independence while maintaining your safety net at a safe distance.
2. Take Note of Any Allergies
If your child or someone you will be going door to door with has an allergy, check all edible trick-or-treat loot they bring home for allergens before they dig in.
If your child has a severe allergy that requires an EpiPen, bringing it along while they go door-to-door for treats is wise. That way, if something unexpected occurs and you need to handle an allergy emergency, you are prepared!
Additionally, it can be a good idea to have treats available that are free of common allergens or non-edible goodies for children who come to the door. Try stocking up on bouncy balls, miniature puzzles, or yo-yos to hand out instead of sweets.
A common method to alert parents and kids to the fact that you have allergy-friendly treats or toys available is by putting a teal-colored pumpkin outside of your house, as several allergy-aware organizations, such as FARE, recommend.
3. Be Fire Safe
Halloween festivities might not seem like an immediate fire hazard, but it's best to keep cautious on that front. Between candle-lit pumpkins and elaborate displays, being fire aware is important during Halloween.
Don't leave your children unattended with candles at any time of the year, especially at Halloween. A flickering Jack-O'-Lantern is a great way to decorate for October, but it is also a major fire hazard for curious fingers.
If you have young children, it's typically best to light up your Halloween displays with a flashlight, battery-powered candles, or LEDs instead of the real thing. Glow sticks are a great option for safer lighting and come in various colors for extra spookiness.
In addition, all costumes should also be checked for fire safety—most children's costumes are made of non-flammable materials, but make sure any wigs or accessories are also safe.
4. Practice Caution When Carving
Creating a Jack-O'-Lantern that is terrifying or funny has become a Halloween staple for many families. However, you must keep an eye on any children during the process, especially if pumpkin carving kits are involved.
Leave any carving to the adults, and instead consider alternative ways for children to decorate their pumpkin for Halloween— they can have some fun with glitter glue, paint, markers, or stickers.
5. Check for Choking Hazards
Ensure to inspect all candy collected for choking hazards, including gum, nuts, hard candies, and any other treats that can pose a risk to small mouths.
Additionally, check the seals and packages of all the collected treats. If anything has torn or damaged packaging, discard it immediately. The same goes for items that look questionable or are expired. It's always better to be safe than sorry!
6. Keep Safe Costumes
Safe costumes are a must for celebrating Halloween with children.
Avoid tripping hazards by sizing them correctly and staying away from high heels or oversized shoes. Any costumes that are too long, such as dresses or capes, will drag on the ground and pose a fall risk.
If your child's costume is not the right length, you can give it a quick hem for peace of mind. Grab your sewing pins, some thread, and tack up the length according to your little one's height.
Additionally, ensure the material of each costume is resistant to flame and opt for bright colors for high visibility.
If trick-or-treating or other celebrations occur after dark, it's a good idea to sew on reflective tape to either the costume or the treat bag. This will help you keep track of your little one.
7. Limit Accessories
Your kids will have enough on their hands with bags full of treats, so limit the number of accessories that go with the costume. Be especially wary of any pointy props like swords, knives, or wands, as they can become an additional safety hazard.
While masks can be a fun addition to a costume, they also are notorious for limiting vision and causing falls. Rather than strapping on a mask, use non-toxic face paint or makeup to achieve the same—or an even scarier—look.
8. Stay Warm
Make sure kids are dressed for the weather, even when in costumes. Jackets can be worn during the walk to houses or parties and then discarded, or thermals can be layered underneath.
If you live in a colder area, consider outfitting your kids with costumes that are a size bigger to account for warm clothes to be put beneath. But make sure the size difference doesn't cause tripping hazards with longer hems!
9. Discuss Road Safety
Halloween is a fun night for everyone, but safety always needs to come first. Remind kids about road safety and to always stay with the group before the excitement distracts them.
Though excitement might threaten to get the better of your children, make sure that they don't zig-zag across the roads when trick-or-treating. It might get them to a particularly spooky-looking house quicker, but they need to know safety comes first.
Instead of darting across the road at unmonitored junctions, teach your Halloween enthusiasts to only cross at stoplights or other pedestrian routes. Like any other time of the year, they need to wait for the light to change and look both ways.
Additionally, teach them to void alleyways and badly lit areas even if they are carrying a flashlight. Stick to sidewalks in neighborhoods and enjoy the bright and colorful displays for Halloween.
10. Teach Stranger Danger
Though Halloween is a time of masks and disguises, it's a good idea to remind kids about stranger danger. Children should never go anywhere with someone they don't know or enter the home or car of a stranger.
And while the point of trick-or-treating can be getting candy from a person you might not know, it is much different to approach a well-lit house that is decorated for Halloween than to accept anything from a stranger in the street.
11. Bring Safety Supplies
Supply your child with items to keep them safe during the Halloween festivities.
Pack a flashlight with fresh or recharged batteries, give them a cell phone for emergency contact, keep track of the time, and pin a note with your address and phone number to their costume if they get lost.
Also, make sure you have set a curfew for them if you are not accompanying the trick-or-treaters.
12. Trick-or-Treat Early
If you have younger children, make sure the trick-or-treating takes place earlier in the night. Not only will this avoid a big alteration to their regular bedtime, but you won't have to worry about the dangers that come later at night.
This is especially crucial for little ones, as bigger kids tend to come out later and have more boisterous attitudes and terrifying costumes.
13. Group Up
There is safety in numbers, and Halloween is no different! If your children are under the age of 12, you should accompany them for a trick-or-treat adventure.
Additionally, if you team up with other parents and their children, the night can be a lot more fun. Or, encourage your older children to go out with a group of friends or older siblings so that no one is left alone.
For more safety tips, check out our blog on how to keep your home secure.