Student Spotlight: Local Golf Star Ryan Calvin
Ryan Calvin, a local golf prodigy and the son of Stephanie Calvin, our Commercial Lines Account Manager, is making great strides in the golfing community. In a recent interview, Ryan shared the inside scoop on his golfing career and his upcoming tournaments.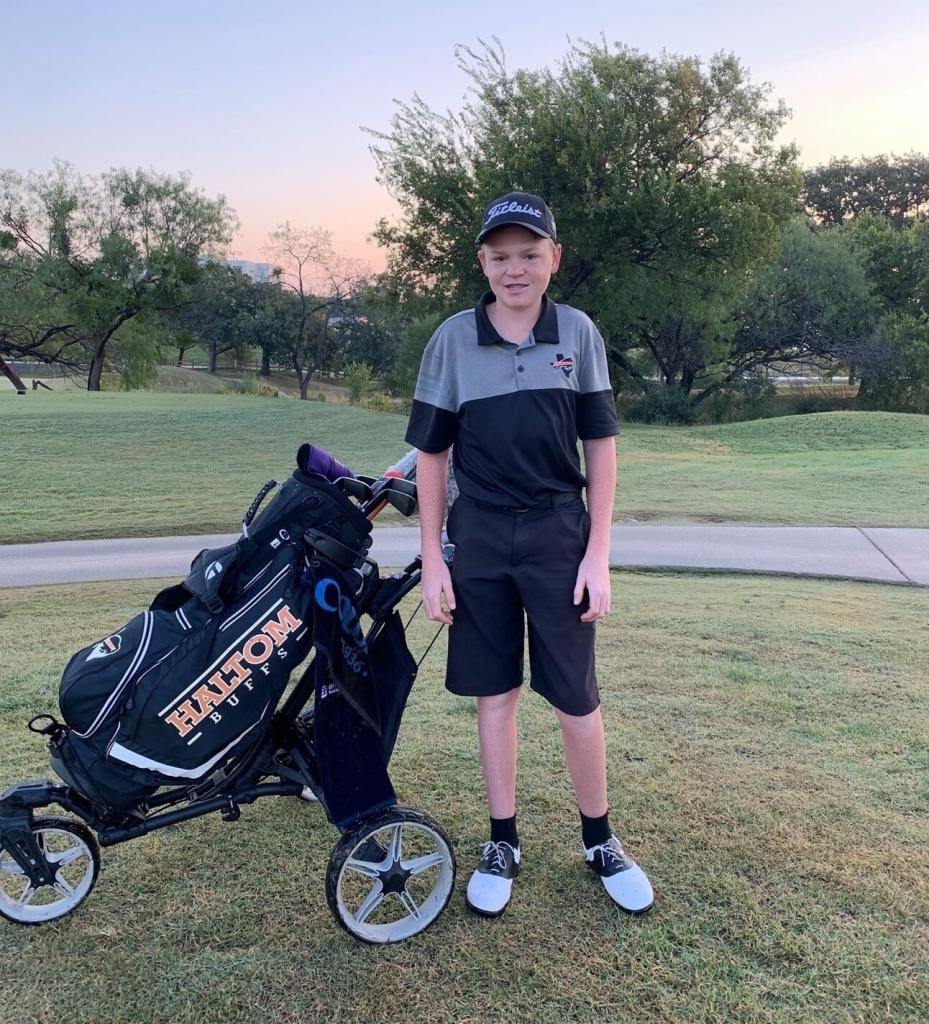 Where the Journey Began
Ryan has shown great skill and technique from a young age, making him a force to be reckoned with on the course. And his golfing journey began only about four years ago when his uncle Frank Wright introduced him to the sport.
Since Ryan's introduction to the game, he has been hooked! He immediately took pride in the sport and began practicing to improve his skills. Now, Ryan is on a strict practice schedule, where he practices five days a week for a minimum of 2 to 4 hours a day and works weekly alongside his swing coach Nick.
Being a Part of the Team
Ryan has accomplished a lot in his short time on the golf scene.
As a Freshman at Haltom City High School, Ryan made the Varsity Golf Team and earned his letterman jacket. Now going into his Sophomore year, Ryan has no plans to stop and will continue representing his team throughout his high school career.
In addition to repping his school colors on the course, Ryan is a member of The First Tee of Fort Worth, a non-profit youth development organization that educates students about golf. He joined the organization in August of 2017 and has quickly worked his way up the ranks. Recently he passed a written and skills test, moving him up to the top level called Ace.
Being a member of Ace at such a young age is quite an achievement and affords Ryan many opportunities. He is not only learning how to improve his golf techniques but his networking skills on and off the course.
Thanks to Ryan's great technique and experience helping with Summer Camps and Spring Break Camps, he was selected to be one of the 2021 interns for The First Tee of Fort Worth and has the opportunity to work with other young golfers. This experience puts Ryan on the fast track to being a First Tee of Fort Worth Coach.
Tournaments and Accomplishments
In the short time, Ryan has been golfing, he has already competed in approximately 30 golf tournaments, including the Match Play Tournament, I-45 Cup Qualifier, Battle of the Boot Qualifier, Club Championship Tournament, and the 2021 Colonial Junior Invitational, to name a few. 
Ryan has continued to improve over the years and has had great success competing at various tournaments around the Fort Worth area. At the 2018 TFTFW Club Championship, Ryan won 1st in his age group and flight. Then at the 2019 TFTFW Club Championship, he won 3rd place in his age group and flight.
But Ryan isn't done with tournaments yet! He has several upcoming events that he is getting geared up for, including:
FTFW – Ben Hogan Challenge – June 19th
Benbrook Junior Golf Championship – June 24th & 25th
Game Changer – July 10th
FTFW – Kevin Long Open –August 14th
FTFW – Angela Stanford Championship – August 28th
Battle of the Boot Qualifier – September 11th
FTFW – Coach Tony Open – September 18th
FTFW – Race to the Cup Championship – October 23rd
Cowtown Showdown – November 13th & 14th
Advice for Future Golfers
Ryan is one of many students benefiting from the opportunities that First Tee of Fort Worth and his high school golf team are providing.
Both Ryan and his parents have grown into huge advocates of the golf community over the past few years and encourage others to join. While the skills and techniques young golfers learn are great, the opportunity to meet and work with others is invaluable. Being a member of a team and networking on the course helps prepare students for their future.
Any youth hoping to explore the world of golf in the DFW area should consider joining the First Tee of Fort Worth.