The Best Summer Activities for You & Your Pet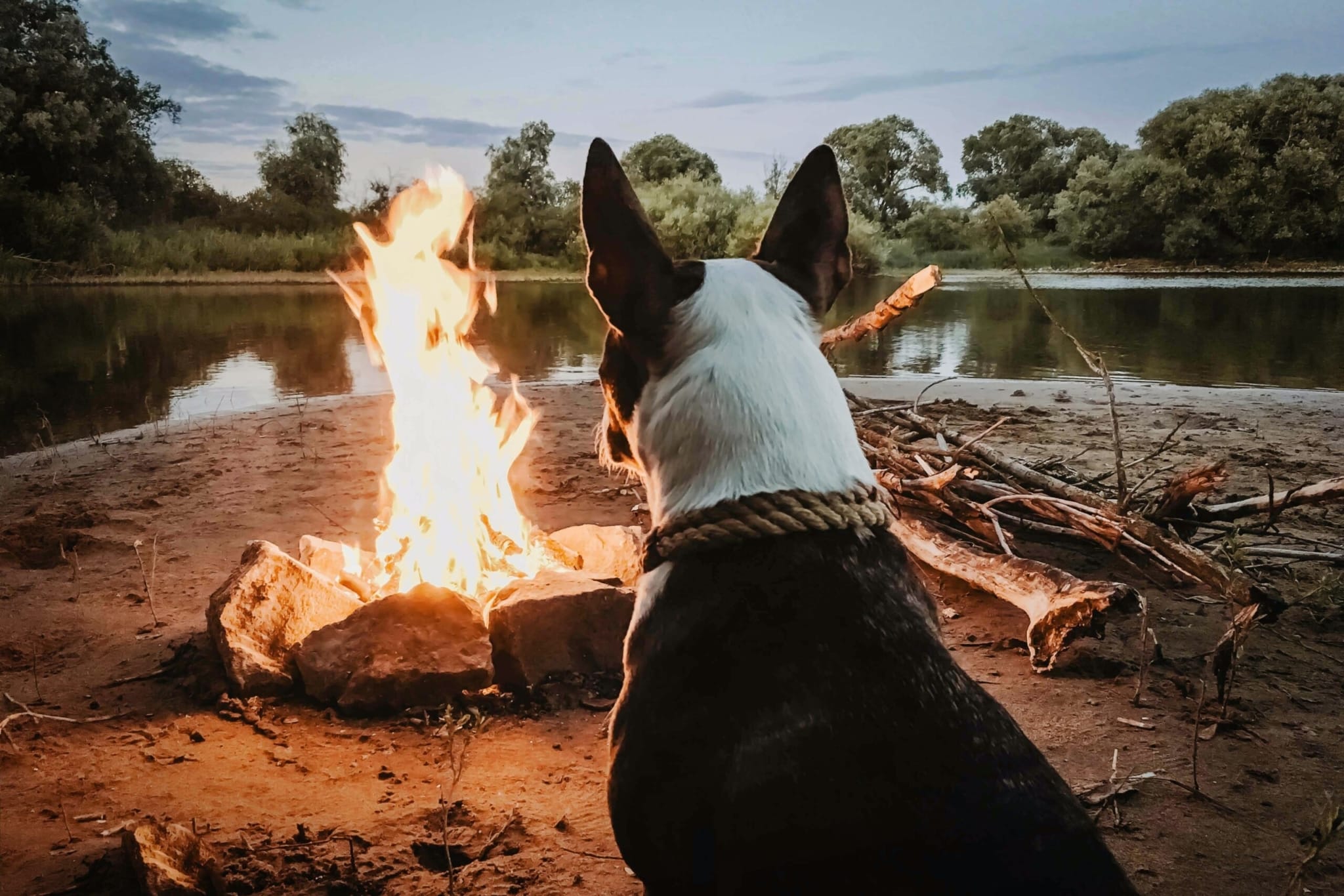 Summer is here! Now is the perfect time to bond with your furry friend and try some new activities, whether indoor or outdoor. Just make sure if you are adventuring outside, the temperature is not too high for your pet, or you may be more comfortable at home.
Read on for 25 activities for you and your pet to try out this summer!
Outdoor Activities
If the sun is shining and the heat is bearable, try these fun outdoor activities!
Have a Backyard BBQ
Host a barbeque and share food and fun with your pet. Invite some of your friends and their animal companions over for a great time! Dogs will be thrilled to sample hotdogs, burgers, or ribs—just be careful how much "people food" your pet is fed and avoid any toxic foods for pets. You can even grill sweet potatoes with a little lemon juice for a healthy pet snack.
Be a Tourist
Play tourist in your own town with your pet! Take a stroll and enjoy the sights that your location has to offer, including points of interest and outdoor monuments. Bringing your pet along with you is not only good for exercise, but you could find a new favorite place to hang out!
Enjoy a Beach Day
Pet-friendly, off-leash beaches are a perfect warm-weather activity for humans and dogs. Bring along a frisbee, balls, and plenty of towels. Whether you live near a lake or ocean, an afternoon spent by the water will be a great time for everyone. Don't forget fresh water for your pet and sunscreen for you!
Take a Camping Trip
Take to the woods for a camping trip! You can pitch a tent or camp in your car with your pet and explore the local wilderness. Most national camping resorts are pet friendly, as are national forests. Some state parks have different regulations for pets, so make sure to check out the individual rules before arriving.
Create an Agility Course
You can easily set up an agility course for your pet in your backyard. With a few simple items, such as hula hoops, mesh tunnels, ropes, and brooms, you can create a fun course for your dog. For a sturdier course, invest in PVC piping that can be easily attached and set up. Motivate your pet with treats and test their agility for an afternoon of fun.
Dine Out
Brunch, lunch, or dinner with your pet and some friends is fun for everyone! Outdoor dining with your pet is a good way to spend the afternoon—research restaurants and cafes in your area that have outdoor patios and are pet-friendly. A few great pet-friendly restaurants in Texas include Woodshed Smokehouse, Lazy Dog Restaurant & Bar, and The Bearded Lady.
Attend the Drive-In Movies
Movie nights with your pet are a great option for summertime activities. Take your pet along to an outdoor film screening or a drive-in to catch a film. Ensure to pack snacks for you and your pet to share and relax in front of the big screen.
Enjoy Watery Fun
If your pet loves water, you can implement various activities to cool down on a warm day. Set up a kiddy pool, turn on the sprinklers, or grab a hose for some watery fun. On a hot day, you can take your dog canoeing, kayaking, dock jumping, or out for a paddle in your local body of water.
Explore a Farmer's Market
You can take your pet out to the farmer's market with you for some summer shopping fun. Grab some fresh vegetables and local goods to share with your pet. For example, you can make a bundle of kale into a healthy baked treat for you and your dog!
Go Treasure Hunting
Geocaching is known as modern-day treasure hunting and is a pet-friendly activity that gets both of you out of the house. Download a geocaching app or follow directions that you can find on the internet, and get started tracking down the hidden location with your pet.
Pack a Picnic
Bring some food along to a nice shady spot and enjoy a meal outside with your pet. A beach blanket and water bowl are essential, not to mention your favorite snacks or sandwiches and your pet's food. Most public parks welcome dogs but make sure to check leashing regulations in specific properties.
Attend Pet Events
Research events and festivals that welcome the presence of pets. You and your dog can make some new friends with other pets and owners, enjoy good food, and even help raise money for shelters at some events. Find local events for you and your pet online and enjoy an afternoon out of the house with your furry friend.
Go on Historic Tours
Take in some local history by taking your pet along on a historical tour. These tours can be great activities to learn more about the area and are a good opportunity to bond with your pet. Pair the tour with dinner at an outdoor patio, and you have the perfect day out.
Plan a Get-Together
Gather up your friends with pets and host a get-together. Let the pets romp and play together and catch up with the other humans. Throw in some snacks, sandwiches, and beverages to make the day complete, and don't forget to toss some balls for your pets to chase.
Start a Walking Group
It's no secret that pets love a good walk, so why not make it more social—get your friends together and start a walking group. Get some exercise and enjoy the fresh air with some companions and their pets. If it is particularly hot out, try moving your stroll to the evening and take advantage of the setting sun and nighttime breeze.
Take a Hike
Hiking is a great activity for people and their pets. Your furry friend will love all the smells and nose-to-ground tracking, as you can take in the sights. Bond with your pet in the great outdoors, and make sure to bring plenty of water and snacks for both of you.
Try Paddle Boarding
It's not for everyone, but stand-up paddleboarding can be a great activity to share with your pet. It gets you out on the water and fits some exercise into your day.
Visit a Vineyard
Most wineries welcome pets so that you can take your furry friend with you for a tasting. With lots of space for picnicking and grassy areas for your dog to explore, it can be a perfect afternoon activity for both of you.
Watch a Ballgame
Take your pet out to a ball game to enjoy the sunshine and fresh air. You can cheer on your favorite team and even pack a picnic lunch—don't forget water and a bowl for your pet, as sitting out in the heat is dehydrating.
Hit the Road
A road trip with your pet is a great way to spend a hot day. Jump into the car with your furry friend and take in the sights. You might find a new favorite lunch spot or local attraction that takes your breath away. Turn on the tunes and grab your pet for a fun day out!
Indoor Activities
Depending on the weather, outdoor activities may not always be an option, especially if you live somewhere like Texas. Not only will the high temps make activities unenjoyable, but they may be harming your pet. Hot concrete and other surfaces can easily burn a pup's paws. So here are a few activities you and your pet can do indoors!
Have a Spa Day
A day of pampering is fun for pets, too. Spend an afternoon giving your pet a spa treatment—start with a bath, ear cleaning, nail trimming, and then finish off with a massage and ear rub. Brush out your pet's coat for a glossy finish. While you're at it, pop your pet's bedding and toys into the washing machine for a full transformation.
Do a Photo Shoot
Plan a photoshoot for you and your pet—get creative with costumes, props, and backdrops. Supply yourself with plenty of treats and your pet's favorite toys, and set up a camera to record some great shots of you both.
Learn Something New
Take a class with your dog or teach a new trick—you can find plenty of options at Flyball, including agility, tracking, flyball, and more. Look up some cool tricks to teach your pet and expand their knowledge. Bonding overtraining and tricks are great for pets and owners alike and are an excellent way to spend the day.
Spend Time in the Kitchen
If it's just too hot out, spending the day indoors is a valid option. Take your pet into the kitchen and test out some animal-friendly recipes, such as pet ice cream, frozen berries, or homemade treats. Not only will your pet enjoy the treats, but you might also find that you have a knack for creating tasty snacks.
Now that you have a list of activities to choose between, it is time to decide which activity you and your furry companion will try out this weekend. Regardless of what you decide, your pet will appreciate being included. Just remember to stay safe and have fun!
If you found this helpful, check out our blog on dogs vs. cats to determine which pet best suits you and your lifestyle.