Recipe: Instant Pot Chicken Pot Pie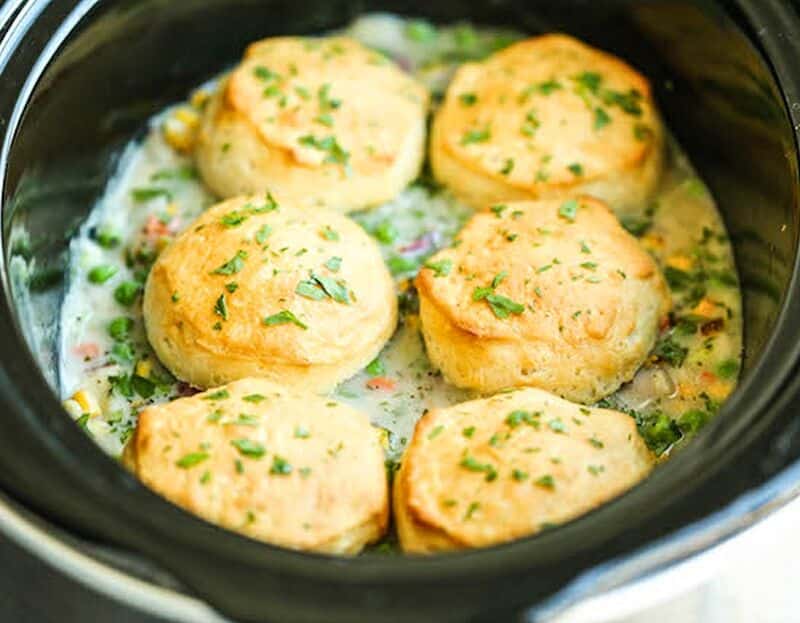 With our crazy Texas weather, it's a good idea to keep a hearty cold-weather menu option at the ready. (As the recent snow flurries showed us!)
This Instant Pot recipe is both quick and delicious for those cold days!
2 tsp olive oil
1 medium yellow onion, diced
1 cup chicken broth
2 boneless, skinless chicken breast halves (frozen is okay, about 1 1/2 pounds of chicken)
1/2 tsp poultry seasoning
1/2 tsp dried parsley
1/2 tsp black pepper
1 (13.75 oz) can Campbell's Cream of Chicken Soup with Herbs
2 cups frozen mixed vegetables
1 can of refrigerated biscuits
Optional: Cornstarch
Turn your Instant Pot to the saute setting. When the display says HOT add in the olive oil. Add in the onion and saute for about 3-4 minutes. Stir in the chicken broth. Nestle the chicken into the pot. Sprinkle the chicken with poultry seasoning, parsley and pepper. Dump the cream of chicken soup on top of the chicken (try not to let it touch of the bottom of the pot). Don't stir.
Cover the pot and secure the lid. Make sure valve is set to "sealing." Set the manual/pressure cook button to 10 minutes for thawed chicken or 12 minutes for frozen chicken on high pressure. Meanwhile move on top step 3. When the time is up let the pot sit there for 10 minutes and then move the valve to venting. Remove the lid.
Pour frozen vegetables into a strainer and run hot water over them. Bake the biscuits in the oven according to the package directions.
Cut the chicken into pieces. Stir the vegetables into the pot. Set the Instant Pot to the saute setting to quickly warm up the vegetables. If the sauce is too thin you can make a cornstarch slurry by mixing 1 Tbsp of cornstarch with 1 Tbsp cool water together and then stirring it into the pot until the sauce is thickened.
Once vegetables are warmed through you can scoop chicken and gravy mixture into bowls and top with a biscuit.