Insureberry Coloring Contest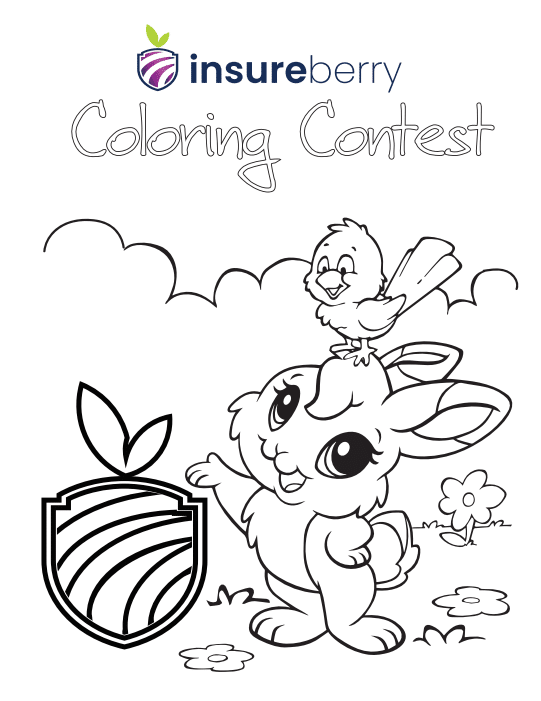 Children love to color, but wouldn't it be even better if they could win a prize for their coloring abilities? Check out our newest Coloring Contest for children aged 4-13, where kids have a chance to win a $25 Amazon e-Gift Card.
Age Groups
Group 1: Ages 4-6
Group 2: Ages 7-9
Group 3: Ages 10-13
How to Enter
Print off the Insureberry coloring page & have your child color it using crayons, markers, colored pencils, glitter, etc.
Write in the top right corner of the coloring page your child's first name and age to make sure they are assigned to the proper age group.
Take a photo of the finished coloring page and DM us it on Facebook. We will message you back when your image is uploaded to our Coloring Contest photo album. (Make sure your child's name and age are written legibly and large enough to be seen on the page before submitting.)
Check our Coloring Contest photo album on Facebook and encourage friends and family to vote for your child's artwork by liking the image.
Come back on Monday, March 8 to see who the lucky winners are.
Deadlines
The competition begins at 9:00 a.m. on Wednesday, February 3 and ends at 11:59 p.m. on Sunday, March 7.
The winners will be announced on our Facebook page on Monday, March 8.
Prizes
There will be a total of 3 winners, one from each age group.
The child with the most likes in each age group will receive a $25 Amazon e-Gift Card.
Contest Guidelines
Only 1 entry per child is permitted.
Children should not receive assistance from outside sources.
Children or parents/legal guardians must put the entrants proper age on the page before submitting.
No one older than 13 is eligible to enter the contest.
Note: Entries may be used for promotional purposes by Insureberry.