The Ultimate Wedding Checklist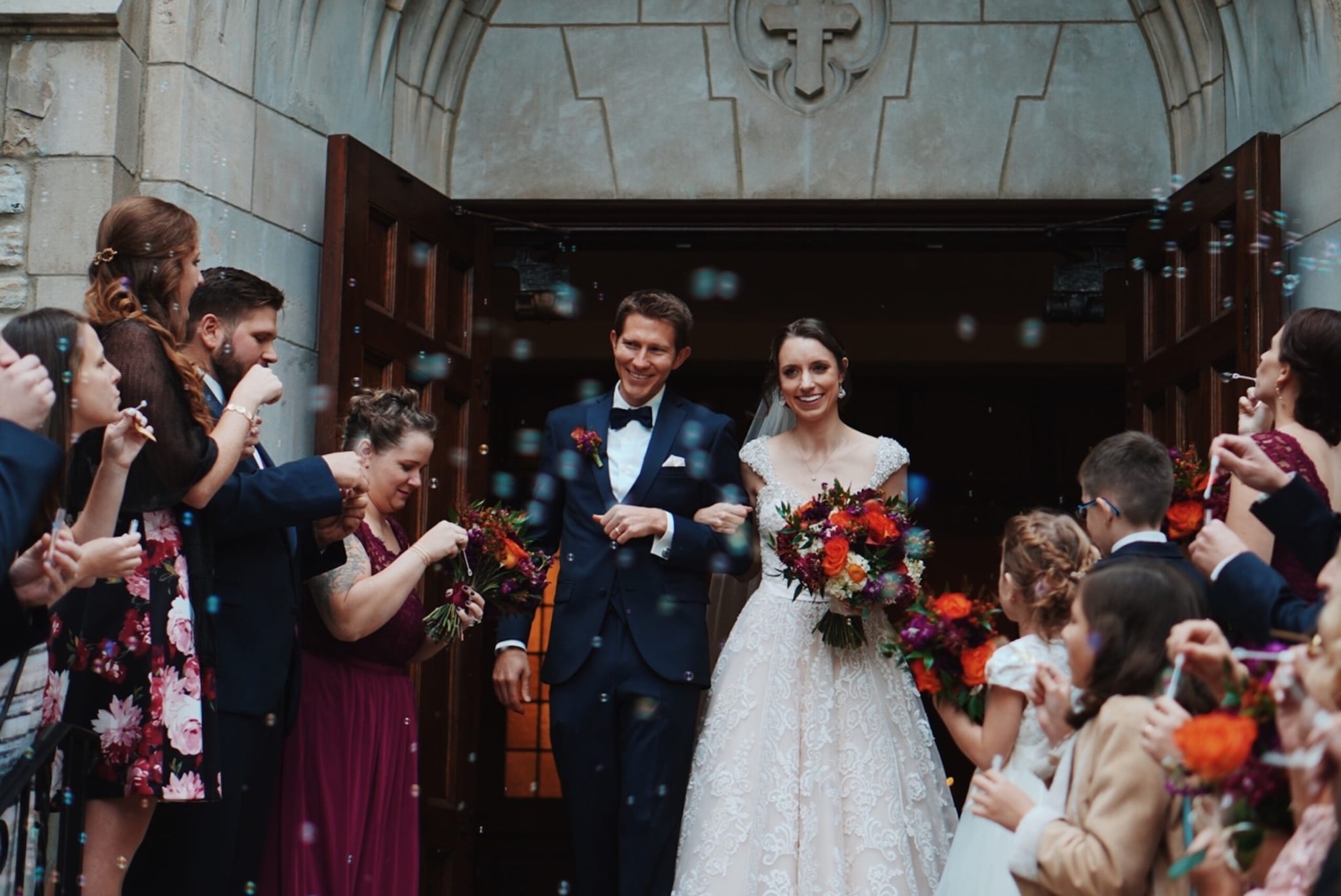 Weddings are not only a joyous and exciting occasion but are also an excellent way to celebrate a big step in a couple's life. However, weddings can also be notoriously difficult to plan, with hundreds of aspects to consider, choose, and schedule.
Luckily, breaking down your wedding to-do list into manageable, monthly portions will help you tackle each part of organizing your wedding and cause you less stress.
Read on for a comprehensive wedding checklist to help you with planning your big day!
12+ Months in Advance
Don't wait until the last minute to start your preparations! Many couples start planning their big day more than a year in advance, but you definitely want to begin organizing your wedding at least twelve months ahead to ensure you get the best prices and vendors.
Announce Your Engagement
Congratulations, you are getting married! Now it's time to announce your engagement to family and friends and even set up an engagement photoshoot to memorialize the moment.
Civil or Religious?
Do you want a priest or a civil officiant? A church or secular setting? These are important questions to determine what kind of ceremony you will have.
Decide on a Guest List
Before you can book a venue or caterers, you need to know how many people will be in attendance. Ask family members to help with the list and decide who you want to celebrate with.
Wedding Planner or Day-Of Coordinator?
Hiring a wedding planner is not for everyone, but it certainly can make the entire process easier. If a wedding planner is out of the price range, but you still want some assistance on your wedding, you may opt for a day-of coordinator. Whether you choose a planner or day-of coordinator, be sure to interview the potential planners and hire one right away.
Choose Your Wedding Party
Ask your potential wedding party members to participate early on and advise them of the duties that the wedding party will entail. This will allow you ample time to replace a wedding party member if they decline your offer due to scheduling issues or other conflicts.
Find a Venue
Visit potential venues, consider style and location, and factor in your budget. Though a list of pros and cons can be helpful, experts recommend that you should go with your gut feeling about a venue—it's all about how you will feel on the big day!
Formal or Not?
It's worth a discussion with your partner about how formal you want your day to be—black tie, semi-formal, cocktail, or casual. Also, keep in mind the time of the ceremony or any religious aspects that may impact the formality.
Set a Child Policy
Figuring out your child policy is key. If you don't want kids at the ceremony or reception, make sure to let people know so they can arrange childcare well in advance. If you plan to allow children at the ceremony, look into kid-friendly activities to keep them entertained.
Make a Budget
Making a spreadsheet for your budget is a great idea, as it is easily changed and shareable. Prioritize all aspects of the wedding, do your research, and keep a realistic outlook on what you can afford. Weddings do not have to break the bank to be beautiful!
Plan and Book Entertainment
Set up your wedding entertainment well in advance, including a band, DJ, orchestra, or other performances.
Select a Caterer
Make sure to arrange the initial food and catering services for your wedding soon. You can finalize the menu and any food allergies later.
Set the Date
It's time to establish the date of your wedding! Setting the date early on will allow you ample time to arrange vendors and suppliers, not to mention the invitations.
Take Out Insurance
After 2020 canceling and postponing many weddings, it is clear that it is best to prepare for anything. One thing that people often overlook when planning their big day is getting insurance! Special event insurance for your wedding can help cover problems with venues or suppliers, unexpected financial losses, and accidents or illnesses.
10-11 Months in Advance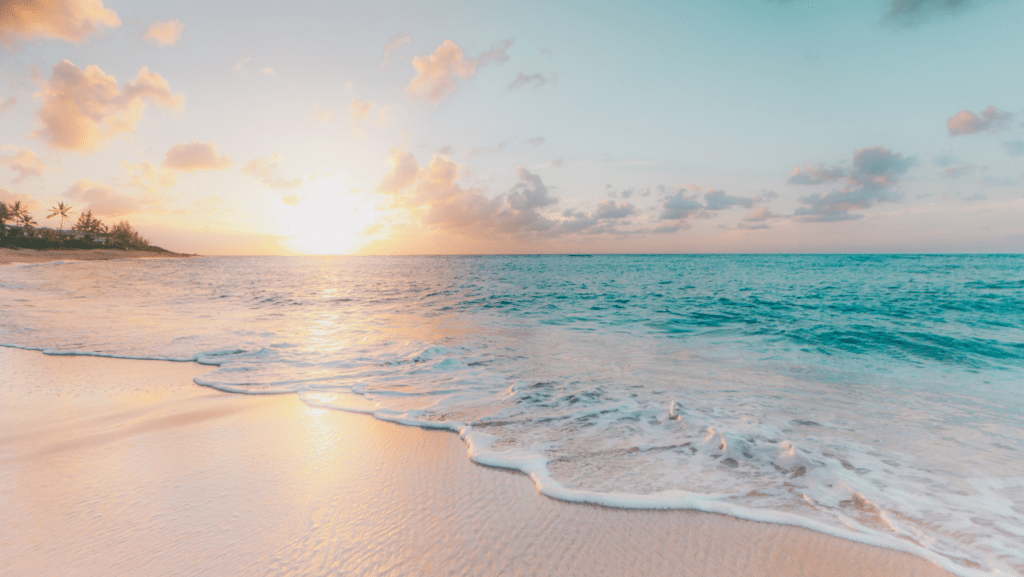 Get all the rest of the big bookings out of the way nice and early for peace of mind!
Book Your Honeymoon
Beach or mountain getaway? Cruise or road trip? It's time to book your dream honeymoon! Arrange transit, hotels, and any additional holiday aspects for a great vacation with your partner.
Decide on Theme and Color Scheme
Gather inspiration, chat about color palettes, and consider decorations for your wedding. You can even create a mood board or a Pinterest account to help organize ideas!
Hire Vendors
Ensure to select and hire any vendors who book up quickly, like photographers, videographers, florists, etc.
Send Out Your Save-The-Dates
Sending out save-the-dates will allow your guests to mark their calendars for the big day well in advance. It will also alert guests that their official invitations will be arriving shortly.
Set Up a Wedding Website
While a website for your wedding is optional, it can also be a great resource for you and your guests. Services like The Knot and Zola make it easy to set up a wedding website and fully customize it. Plus, they are free!
Start Wedding Dress Shopping
Shopping for a wedding dress is one of the most enjoyable parts of planning your wedding. Determine what style and color you like and begin looking at inspiration online so you know what you want to try on when you start shopping.
8-9 Months in Advance
With months to spare, now it's time for accessories, fittings, and even more bookings!
Buy Your Dress
If you wait too long to start searching for the perfect gown, your options may be limited due to shipping constraints and necessary alterations. So start the hunt early on. Once you say yes to the dress, buy it! Don't let the perfect gown get purchased by another person before you have the chance.
Book the Rehearsal Dinner Venue
Make sure to book the venue for your rehearsal dinner early on, with enough seats for everyone. The larger the party, the more advance you should give the venue.
Book Your Wedding Night Accommodation
If you are staying the night at a hotel after getting married, try and book the bridal suite for a luxurious experience for you and your partner. You want to book the room well in advance, especially if your wedding is the week the hotel is hosting an event, to ensure a room is available.
Bridesmaid Dresses and Fittings
It is best to get your bridesmaids' dresses sorted around this time, but first, you need to decide what you are looking for. Do you want to pick the color and give your bridesmaids the freedom to determine their style or assign everyone the same dress? Once you decide and everyone gets their dresses, schedule fittings to make sure everything fits perfectly and the dresses look well together.
Customize Your Invitations
Whether you are using an online service or making DIY invites, it's time to figure out your invitation styles and customize them.
Get Hair and Makeup Sorted
Consider your look for the big day, and approach hairdressers and makeup artists to see if they can help you achieve it. Bring in photos and examples of what you want to make it easier.
Also, talk with your bridesmaids to see if they are comfortable doing their own hair and makeup on the big day or prefer to get their hair and makeup done by a stylist.
Purchase Your Shoes and Accessories
Along with your dress, buying shoes and accessories to complete the bridal look is important. You will need to purchase shoes that you will be comfortable walking down the aisle in well in advance so that you can wear them during your wedding dress alterations.
Also, begin purchasing jewelry pieces such as earrings or a statement necklace so you can start to visualize what you are going to look like on the big day.
Register for Gifts
Select stores to open wedding registries in, and share them with your family and friends! You can post them on social media and your wedding website. Gift registries are a great way to help start your married life with some essential items.
Take Time Off Work
Take time off in advance and give your job plenty of notice for when you will be getting married to ensure your time off request gets approved.
5-6 Months in Advance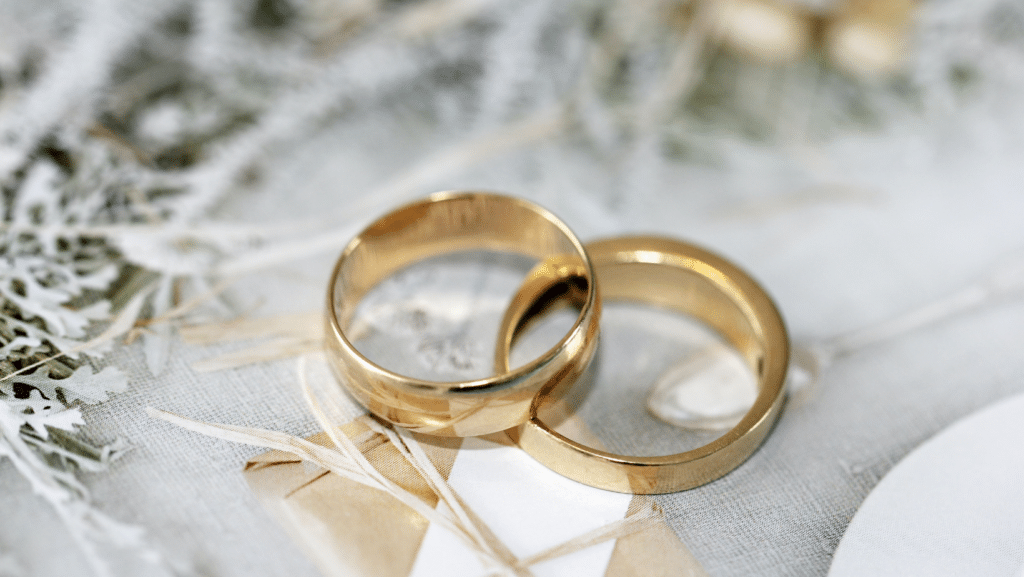 Around half a year before you get married, it's time to solidify some specific considerations for the service and catering.
Agree on the Order of Service
Discuss the service with your officiant, including readings, songs, witnesses, and any other aspects of the ceremony. You don't want to be surprised on the day of the wedding!
Buy the Rings
While you likely already have the engagement ring, purchasing your wedding bands should be done with months to spare before the wedding.
Food Tastings and Finalizing the Menu
Settle on your food options and finalize the reception menu around this time, too. Make sure to take any guests' food allergies or intolerances into account. You want everyone to have something they can eat since you will be paying for the meal whether it gets eaten or not.
Order Décor and Table Decorations
Whether you are purchasing or renting your décor, arrange for it in advance. This includes table decorations, candles, wedding signs, centerpieces, and more.
Order the Cakes
Determine what kind of cakes you want and carry out some tastings with a baker. After you decide, order your wedding cake and groom's cake for the day of the wedding.
2-3 Months in Advance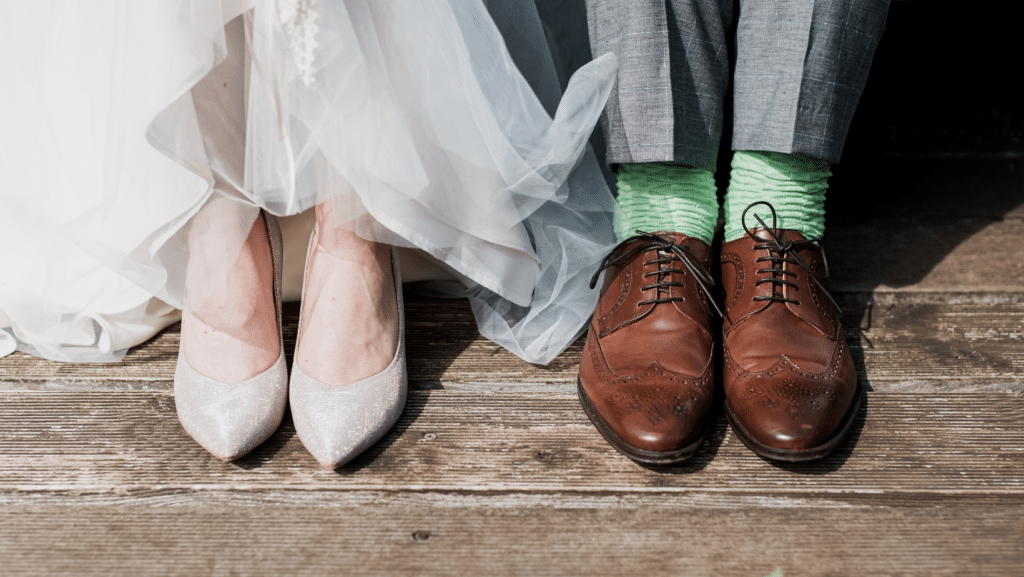 Preparations for your wedding around this time include minor details and considerations.
Break-In Your Shoes
Don't get a blister on your big day! Make sure to wear your wedding shoes around the house to break them in.
Final Dress Fitting and Alterations
Make sure your wedding dress fits perfectly—get any final alterations or additions to the dress done around this time.
Get the Little Things
It's time to collect all the small items, such as card boxes, garters, guest books, cake toppers, etc., that you have not already purchased for the ceremony or reception.
Hair and Makeup Trial
Make sure to have a trial run for your selected hair and makeup look. Bring images of your ideal look and tell your hairdressers and makeup artists about any allergies you might have to products.
Pick Up Your Marriage License
Don't get bogged down with the legal side of things on your big day. Apply for and collect your marriage license well in advance of the wedding. Ensure to sign the license along with your partner and have your witnesses and officiant give their signatures.
Send the Invitations
The difficult part of selecting your guest list is done, so now it's time to send out all the official invitations. Include RSVPs that are due one month before the wedding, and add rehearsal dinner invites too!
1 Month in Advance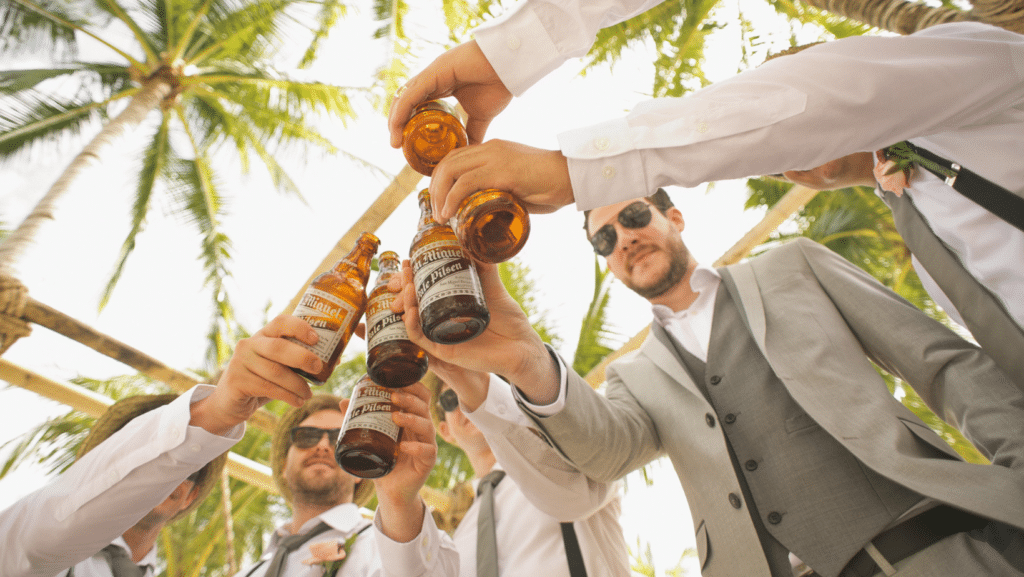 As the big day approaches, you should wrap up any loose ends related to the ceremony, venue, and guests.
Bachelor and Bachelorette Parties
Celebrate your upcoming nuptials with family and friends—pop a bottle of bubbly and throw on your "Bride To Be" or "Groom To Be" sashes for a night of fun.
Chase Up any RSVP Latecomers
Make sure to follow up with anyone who has not yet submitted their RSVPs or discussed their attendance with you to make sure you have enough seats, food, and favors for everyone.
Final Walk-Through
It's a good idea to have a final walk-through of your venue before the big day. Make a list of any questions, so you don't forget anything.
Finalize the Seating Plan
Consider your venue's floor plan, whether you will have a head table, and where to place family members and friends. Do leave room for any last-minute alterations!
Pay the Vendors
Don't worry about paying your suppliers and vendors during the reception. It's wise to complete all payments in advance to give yourself some peace of mind.
Write Your Vows
If you are not using traditional vows, write your vows at least a month in advance. Consider what you want to say and how to say it, read some famous love declarations, and get creative!
The Week of the Wedding
You are almost there! In the days before your wedding, it's time to take care of all the little details and some additional relaxation measures. Things to do include:
Book a massage—make it a couple's massage for a romantic day out
Brief the bridal party
Collect all the dresses and suits
Confirm any final details with suppliers
Do a final dress fitting
Finalize your guest numbers
Get your ring cleaned by a jeweler to make it shine
Manicure and pedicure
Pack your bags for the honeymoon, grab your passport, and confirm all the travel arrangements
Practice your vows aloud
Refresh your hair color
The Night Before the Wedding
Now that all the planning, preparations, and details have been taken care of, you can relax and get a good night's sleep. Don't forget to:
Assemble a small bag with personal items for the ceremony, such as Chapstick, eye drops, etc.
Drink plenty of water
Have a healthy dinner
Load any bags, boxes, and suitcases into the car
Set out y our dress for the next day
The Morning of the Wedding
It's the morning of, and you are likely buzzing with excitement. Sit back with your glass of bubbly and enjoy the payoff from all those months of planning and organizing. Some last-minute things for the day of the wedding include:
Drink plenty of water
Eat a healthy, filling breakfast
Layout any items for your photographer to capture, such as rings, shoes, notes, etc.
Stay off your feet as much as you can
Take your dress and veil out of the bag and steam them, if necessary
And finally, you can relax! You have already organized everything, so now it's time to get married and celebrate this next big step with family, friends, loved ones, and your new husband or wife!